Go to blog main
What is DEX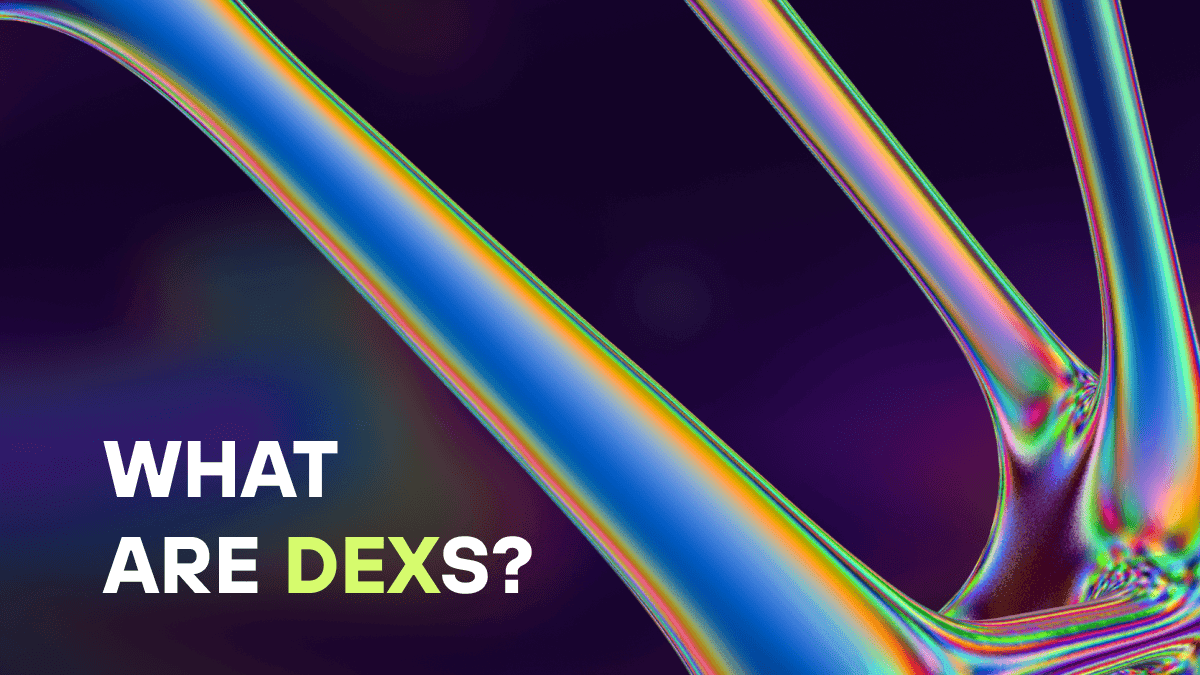 DEX (Decentralized Exchange) Explained: How Does It Work?
First DEXs started appearing in 2014 and, of course, became very popular. They are drastically different from centralized exchanges. Especially when it comes to anonymity. People who want to hide their identity and avoid the third party will definitely find what they are looking for on a DEX (decentralized exchange/DEX exchange crypto). Plus, because they are using smart contracts, more use cases of such platforms can appear in the future. Although centralized exchanges (CEXs) still rule on the crypto markets and fulfill the needs of crypto traders as well as investors, DEX crypto exchanges are an interesting alternative. Every DEX is customized to bring the best parts of decentralization to buying, selling, and working with cryptocurrency portfolios. So why do we think everyone should know more about them?
What is a DEX (decentralized exchange)
Decentralized exchanges (DEX crypto exchanges) are places for crypto trading where every transaction is made with the help of smart contracts. The idea behind many DEXs is to have permissionless on-chain infrastructure without decentralized ownership all over the community of distributed stakeholders.
Unlike centralized exchanges (CEXs), they don't store users' funds or control deals. Most of the time, decentralized exchanges don't ask their users to pass KYC.
Due to their decentralization, DEX exchanges have a number of advantages:
lower fees (due to the fact that there's no intermediary);
complete anonymity of users (they don't need to disclose their private keys or complete KYC and AML procedures);
funds can't be frozen on the account;
the process of listing new assets is a lot faster and can be done by providing liquidity into pools;
users can make a profit by providing liquidity;
users can make decisions about the project by farming governance tokens.
There are, of course, some drawbacks of DEX decentralized exchanges:
most DEX crypto exchanges are limited to one blockchain (however, some exchanges have cross-chain bridges);
decentralized exchanges offer a limited number of tools;
any deal is executed automatically, which means even if it was a mistake of fraud, it can't be reversed (so users need to be extra careful when it comes to choosing an exchange);
the speed of swaps on DEX exchanges can reach up to a few minutes (this may happen due to network congestion);
lower liquidity (DEXs are relatively new, however, there's been an improvement with the growth of DeFi);
DEXs are more prone to scams (they are not regulated, which means the assets not always get a proper check before they end up on the exchange).
AMM (automated market-making) DEX exchange crypto (decentralized exchanges) attracted the attention of many people around the world, which led to investment flow. In the near future, DEXs are expected to broaden their tools' arsenal.
How does DEX exchange work
There's no order book or central authority, which means smart contracts rule everything. They control the prices of different cryptos and use liquidity pools, where people lock funds in exchange for rewards.
DEXs are normally built on open-source code. So anyone can see how they work. Moreover, developers can adjust code to create new projects.
There are three main types of DEX implementation in the crypto world:
Order book. Normally, they keep information about the transactions. When it comes to crypto DEX exchanges, this info is usually kept on-chain, while the funds are stored off-chain. Swap. This transaction takes place instantly in the wallers through a peer-to-peer network. In this case, the mechanism relies on the Total Value Locked. Decentralized exchange aggregator. DEXs have created a number of tools to increase liquidity.
What is a DEX wallet
DEXs are mostly non-custodial, that's why traders don't need to give up control over private keys to complete transactions. On the contrary, external wallets interact with DEXs, while trades get executed thanks to smart contracts. Unlike with CEXs that control your private keys. There are, of course, some DEX exchange crypto that offer DEX wallets or something similar to them.
So usually, users need to download a DEX wallet, compatible with the DEX they want to use. Like MetaMask with Ethereum. Then they need to send funds to this wallet or buy them directly in it. After that, users go to the decentralized exchange and look for the pair they want to swap. It should recognize the crypto wallet of a user and let them use the decentralized exchange. This is confirmed on the wallet. Users should keep in mind that they need to check all the fees before swapping the assets. The process may take up to a few minutes, as it depends on many factors.
What is an example of a good DEX exchange crypto
Over the last few years, many reputable platforms have created their own DEX decentralized exchanges, however, you still need to pay attention to many factors before picking the DEX crypto exchange you prefer.
WhiteSwap DEX is a part of the WhiteBIT ecosystem. As you may already know, WhiteBIT is the biggest European CEX exchange with over 2,5M users. This ensures that the team behind the DEX exchange crypto is very skilled and experienced.
WhiteSwap DEX exchange is a community-governed AMM DEX exchange that works on Ethereum, Tron, and Polygon. The AMM means you can take part in liquidity pools by providing liquidity into them. More blockchains and cross-chain bridges will be added very soon.
The DEX exchange crypto completely belongs to users. The decisions are made by them through voting. Centralization and admin rights are absent from the protocol. Our crypto DEX exchange doesn't store user assets. So any hacker attacks or failure cannot lead to the loss of funds. You are always in control of your crypto.
The DEX decentralized exchange makes it possible not only to exchange existing cryptos, but also to start new liquidity pools on the platform itself. Because of that, projects can begin their journey with minimal liquidity and forget about high fees.
Pricing assets depends largely on a mathematical formula. Unlike centralized exchanges, automated market-makers don't offer an order book. Moreover, there is no central structure interested in the manipulation of the crypto DEX exchange.
Governance tokens and how to get them
A governance token is a token that lets its owner participate in the decision-making for a project. Holders can propose changes, as well as support or disagree with them by voting. WSD is the governance token of the DEX crypto exchange WhiteSwap. To get it, a user needs to provide liquidity to one of the pools, receive an LP token, stake it, and then claim the governance token. They can also simply buy it on one of the available exchanges.
You can earn on the WhiteSwap DEX crypto exchange and get yourself some additional profits:
Becoming a liquidity provider (LP). This can be done by any user simply by providing liquidity into a liquidity pool. Receiving a fee from each trade. Liquidity pools will extract it. Collecting trading fees. The amount of profit depends on the amount of funds from the pool you own.
Here's what makes WhiteSwap different from many other DEX exchanges:
It's safe. Your funds are kept in personal wallets that have private keys and are not available to third parties. Only the owner can access them, which makes them secure.
Governance model on Ethereum, Polygon, Tron, and other blockchains are provided in the project development plan.
An opportunity to become an investor and creator of liquidity pools on the Ethereum, Tron, and Polygon blockchains.
It's a well-known fact that the WhiteBIT exchange offers a lot of cool activities for its users. The same goes for WhiteSwap crypto DEX exchange. All you need to do is keep your eyes peeled on social media accounts.
What's next for WhiteSwap? The answer is already available in the roadmap. After the cross-chain governance update, there comes ETH-TRX cross-chain swap solution.
As you can see, any DEX exchange crypto has a lot of advantages when compared to centralized exchanges. However, there are also some drawbacks that should be kept in mind before joining a crypto DEX exchange. WhiteSwap has its own goal, and this goal is to change the industry. It is getting achieved by giving the community complete control over the protocol and contract code. This is what makes a truly decentralized automated market-making (AMM) protocol.
DEX exchanges are not as straightforward as centralized exchanges, yet they are an amazing innovation in the world of crypto. Those people who find the most important crypto values to be decentralization and anonymity, support and appreciate what DEXs are bringing to the table. Decentralized crypto exchanges will probably play a rather significant role in the world of finance since more and more prominent investors are entering the sector.