Go to blog main
What is DeFi Wallet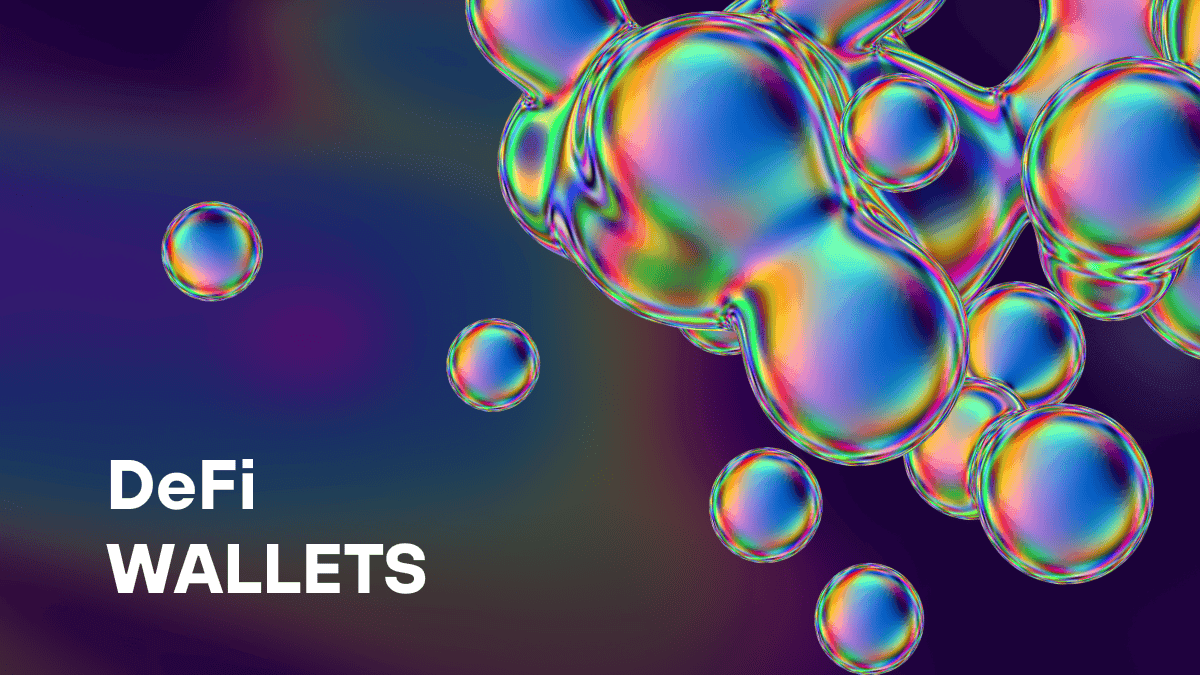 What Is A DeFi Wallet
The world of crypto is constantly evolving. Decentralized finance (DeFi) has opened a lot of new opportunities for people all over the world. Unlike centralized finance, DeFi is available to anyone. Plus, there is no third party or central authority that can take your money. This is fresh and internet-native system avoids usual intermediaries thanks to blockchain technology. And, of course, everyone loves it! However, before using any decentralized exchanges, you need to do your research and find out how this technology works. Let's start with DeFi wallets: what is a crypto DeFi wallet? What is a DeFi wallet used for? Is a DeFi wallet safe? These are the basic information one needs to know about the topic. Are you ready to discover more? Then continue reading!
What is DeFi
First things first, let's go over the basics of DeFi again. DeFi means decentralized finance. This is a new technology that lets people complete direct transactions by cutting out a middleman. Decentralized finance uses blockchain technology as well as smart contracts. Smart contracts are programmed to conduct certain actions and are not controlled by any authority or administration: if all the conditions are met, the transaction gets executed. All the info about any actions is stored in the blockchain, and no one can change or delete it. If it's there, it's there forever.
Unlike centralized finance, DeFi uses special software and security protocols to provide the services. Regular users have more control over their money with the help of wallets or different trading services.
One of the main reasons for the growth of DeFi's popularity is its ability to be used in rather complex scenarios. For example, its use cases include stablecoins, lending, yield farming, staking, and DEXs. These apps offer users higher interest rates, simpler loan requirements, and lower fees than banks.
However, you need certain tools to join this game. One of them is the non-custodial DeFi wallet. For example, Web 3 wallets are interoperable across all blockchains and most big DeFi protocols as well.
There are many such wallets to choose from, and learning all their advantages and disadvantages can be a lot to take in. However, there are a few things you need to know about wallets before choosing one. So what is DeFi wallet meaning?
What is a DeFi wallet
The answer to the question of what is DeFi wallet is pretty simple. A DeFi wallet (or decentralized wallet) is a non-custodial solution that keeps your crypto funds in one place. In this case, a 'non-custodial' means that your assets can only be available to those who have your seed phrase or private key. This means that the user is responsible for keeping this information safe and that authorities cannot freeze your account. DeFi wallets are flexible and able to access different applications.
But what is DeFi wallet's difference from similar technologies? A decentralized DeFi wallet crypto gives users a solution that passes the power on to its owner. This is very different from centralized finance, which controls users' funds and requires verification or personal information.
DeFi wallets remove a third party from the picture, and this further revolutionizes the world of finance. Most crypto DeFi wallets are Web 3.0 wallets compatible with Ethereum (however, this may vary). These wallets are compatible with dApps. They are a key-based solution that makes users take responsibility for their private keys.
So are DeFi wallets safe
As much as anything in finance can be safe: decentralized wallets are considered to be one of the safest on the market. However, having a DeFi wallet meaning you need to be more careful because you are the one responsible for its safety.
Hot vs. cold DeFi wallets
As you may know, after using blockchain and cryptocurrencies, there are two main types of wallets: hot and cold ones.
'Hot' means that the wallet is connected to the Internet. This is the main reason why they are more susceptible to hacks. If you make a mistake or use it with, for example, an unprotected Wi-Fi network, fraudsters can get access to your login information. On the other hand, hot wallets are very handy to use. You can use them anytime and anywhere without having to go through complicated extra measures. They are basically just one click away.
'Cold' wallets are the most secure of these two. They have no connection to the Internet and usually come in the form of a USB device that needs to be plugged into a computer. There are fewer risks because no one can access them from outside, yet they can get lost or stolen from their owner. If you prefer cold storage and want to work with DeFi protocols from your cold wallet, opt for MyCrypto or MyEtherWallet, which supports hardware wallets.
How to choose a DeFi wallet
At the moment, there are lots of crypto DeFi wallets to pick from. Before making your decision, you need to consider all the information there is and decide which blockchain you want to be using your wallet on. It's because some of them may not support all the blockchains you need. This is why some people end up using a few different DeFi wallets. They are free and pretty easy to set up.
When you have decided on the blockchain you prefer, it's time to concentrate on the features they offer. Some wallets allow you to interact with DeFi protocols and trade DeFi wallet crypto without leaving the wallet itself. For example, MetaMask lets users exchange the DeFi wallet crypto right in there.
Decentralized wallets like Argent makes it possible to buy assets from your bank card. Coinbase DeFi wallet crypto is integrated with Compound, and Gnosis allows the creation of multi-signature transactions.
How to create a DeFi wallet
The steps of setting up a wallet is similar to signing up on an exchange or any other platform. Firstly, you need to choose the wallet you prefer. Then go to its website and complete a few simple steps. These may include clicking the button that says "Sing up" or "Create a wallet", agreeing to the terms and conditions, and activating the security measures (such as back up, recovery phrase, etc.). After that, you will need to deposit funds to your wallet in order to start using it. This can be done a few different ways (it depends on the wallet).
What is a DeFi wallet used for
After creating a DeFi wallet crypto you will get a lot of different opportunities. You can choose a decentralized exchange and start using its tools. Some DEXs also offer lending or referral programs. You might be interested in them if your wallet doesn't have such an option. For example, on WhiteSwap you can not only buy an asset, but also earn on providing liquidity in the pools or get yourself some governance tokens and become a co-owner of the platform. WhiteSwap is a decentralized exchange (DEX) governed by the community. Let's take a better look at what is a DeFi wallet used for on WhiteSwap!
1. Here's how to receive a governance token and start participating in the management of the project:
provide liquidity to one of the pools;
receive an LP token;
stake the LP token in a staking pool;
get the governance token (WSD);
or buy in on one of the partner exchanges.
2. Here's how to become a liquidity provider and start earning on it:
deposit funds into a pool and hold your LP token;
liquidity pools will take a fee from everyone who uses the pool;
you will receive a part of this fee (according to the percentage of LP you own. Decentralized exchanges like WhiteSwap make it easier to keep your funds secure while using various instruments and juggling between several blockchains. And you can still avoid passing KYC or using AML. What a great alternative to centralized exchanges!
Yes, the world of crypto is constantly evolving and changing. And it is only wise to keep up with those changes. The benefits of decentralized finance (DeFi) are undeniable. It has given access to financial operations to the people from all over the world, no matter rich or poor. This is something that couldn't be done by centralized finance. People enjoy the fact that there is no third party involved into their financial operations. There are at few good reasons why people like DeFi so much. Firstly, it's because this is something new and unregulated. Those who are into this topic, will find a lot of benefits of using something so different from traditional finance. Secondly, DeFi users know that blockchains are superior to the banking system with its outdated code and databases. Thirdly, DeFi is basically a technology that makes everything you love in the crypto world possible. People say that decentralized finance is here to fix the financial system, and it does sound good.
Of course, before using decentralized finance (DeFi), everyone needs to get to know everything about it and find out how to work with this technology. Many people are excited to learn what is crypto DeFi wallet. Crypto DeFi wallets are something anyone can access and use. All you need is to pick the one that suits your needs and set it up. The process is usually very easy. After creating a wallet, you will open up many great opportunities, such as access to decentralized exchanges (DEXs) with lots of handy tools.
There is no doubt that decentralized finance (DeFi) will contintue to grow and evolve. Many major investors as well as influencers have already turned their attention to it. They enjoy the freedom and a wide range of opportunities DeFi gives them. Many optimists believe that decentralized finance (DeFi) will eventually replace banks and centralized exchanges with their fair and well-thought-out system. We consider this to be a great outcome, too.